Next
is a mock mobile application created by Meredith Liu, Claire Wild, and Yours Truly for Enrique Von Rohr's Spring 2019 Interaction Design class in collaboration with the Washington University School of Medicine.
As its title suggests, a mild stroke, or transient ischemic attack, is often considered a lighter form of stroke, as physical symptoms usually disappear within a few minutes and are usually not life-threatening. However, like a normal stroke, instances of mild stroke can still result in the brain sustaining damage, often affecting aspects like the patient's memory, speech, or motor skills. Since mild strokes are regarded as less severe than normal strokes, mild stroke patients often do not receive the attention they need to recover from these effects, paving the way for negative changes in one's lifestyle. Next is intended as an accessible and approachable behavior activation tool for aiding mild stroke patients in their recovery.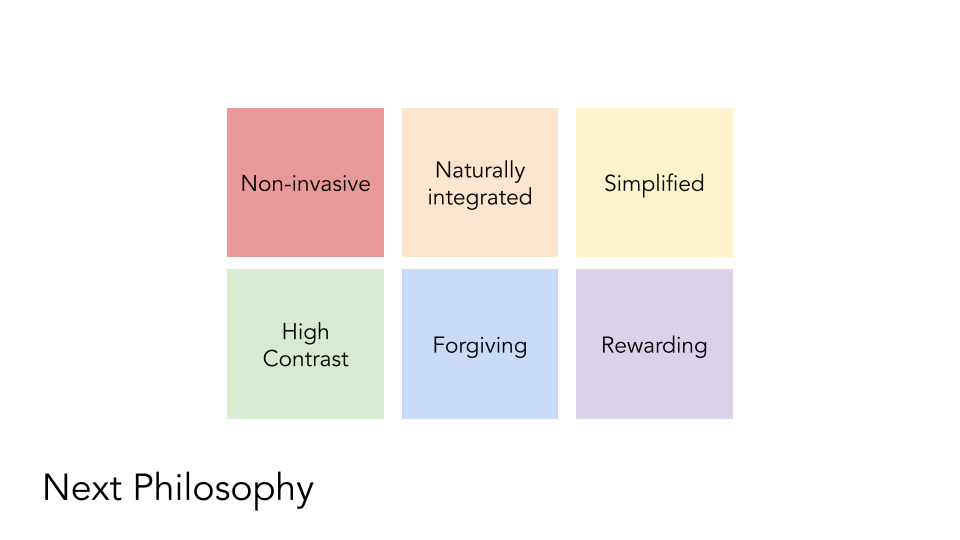 Since the majority of mild stroke patients are older and less familiar with smartphone technology (often citing issues like small text and too many buttons), our team chose to distance Next from standard smartphone application conventions, opting for large text for readability and solid contrasting colors to differentiate screens. Movement options per screen were also limited to scrolling/swiping to keep navigation easy to grasp.
The most enriching part of this project was getting the opportunity to visit the medical school and interview real mild stroke patients, who's insights not only broadened my own horizons but also proved invaluable in informing our team's decisions in creating Next.

On the team I handled the majority of the application's visual and motion design, and while I stand by the reasons behind the design decisions I made, my relative lack of experience in UI and motion design is still very clear here. If I were to revisit this project I would want to take our current prototype back to the patients we interviewed to conduct user tests, and use that feedback alongside my more recent design experience to further refine the interface and interaction of our product.